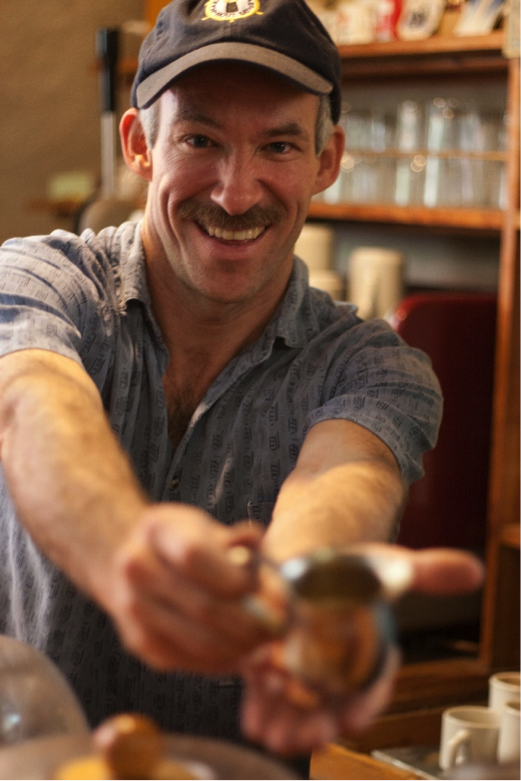 Any successful business has the potential for inspiring others towards achieving their goals. Over the years we have heard the comment repeated often from people visiting our shop, "I admire you for having had a dream and accomplishing it. It gives me hope and encouragement to pursue my own dreams with more faith."
We believe Crossroads has earned the right to offer its wisdom and experience in the coffee industry to dreamers and entrepreneurs alike. Michael is a remarkable visionary. He has proved that through perseverance and prudence a thriving coffee shop can be built against many odds (some being the difficulties encountered in doing business in a developing country.) The risks he has taken were obviously worth it. He has succeeded in maintaining high standards in service and products. His expertise is well-known and valued by customers and suppliers, as well as competitors.
Signup Now, for a coffee experience you will never forget!
---
---
---
Reference: Oliver Ray
?Had a great experience as a roasting apprentice with the Robert's family. Crossroads is one of my favorite cafes in the whole world. It has spirit, great, fresh roasted coffee, Adele's amazing pastries, and lively atmosphere. Michael taught me the subtle art of roasting coffee; he explained clearly its technical aspects (including the mechanics of the roaster and roaster maintenance); but he also transmitted that part of roasting that comes from the heart and has nothing to do with watching a timer. All of this came to pass in real time, in the midst of the hustle and bustle of the cafe. He loves coffee. He knows coffee. We took a buying trip to Tajamulco, in the mountains of north western Guatemala. I can still see him with his face buried in a handful of green coffee and the old senor whose coffee it was looking at him with a smile. On this journey I learned how to find and buy hard bean coffee and gained insights into this process that I don't think I could have gotten any other way."
"The location of Crossroads in Panajachel on beautiful lake Atitlan is an ideal place to be. The local culture is colorful and friendly and there is a large international community. Many opportunities to learn Spanish. Many opportunities to see how coffee is grown and harvested. Overall, it is a wonderful place to learn about coffee, from the people who grow it and harvest it, all the way to the cup. All of this makes for a great place to learn the art of roasting."
-Oliver Ray, Owner Cafe Aqui , Tuscon, AZ
---
Reference: Russ Norris
"Mike and Adele flexibly tailored the apprenticeship program to inform a research project through my university in the United States. I was impressed by their willingness to individualize the program based upon my limited time in Panajachel, my academic purpose as a student, and my personal goals. The program provides a broad roasting education that can be supplemented by farm visits, barista skills, and supporting readings. An apprentice, therefore, will leave with a richer understanding of the entire production process."
"While the apprenticeship was my first trip to Central America and my Spanish was minimal, Mike and Adele were knowledgeable local informants who provided a support structure — and great hospitality — during my stay. Above all, their entire family is authentically passionate about coffee, Panajachel, and life. I excitedly returned to Panajachel a year later for a seperate academic project and will likely visit again in the coming years. I unconditionally recommend this program to anyone entering the coffee business or persons who simply want to learn a new trade."
-Russ Norris
---
Reference: James Spano
"My time at Crossroads was extraordinary! I can think of no other opportunity that would allow me to experience what I did with Mike. The time and effort he put into teaching me is unmatched. I learned not just about coffee brewing, roasting, and growing, Mike taught me about community, dedication, compassion, honesty, passion for the job and how to share it with those I come across. I would not trade the experience for anything!"
James Spano, Owner Cup to Cup Coffee Roasters Savannah, GA